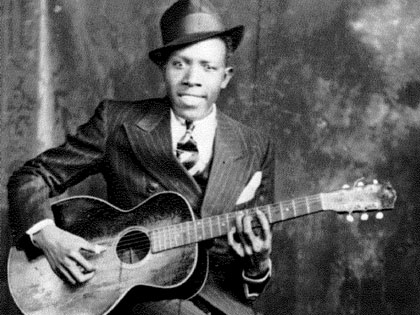 Of all the early country blues, delta guitarists, no one is more revered than Robert Johnson.
And that reverence is probably well deserved. He was one of the creators that originated the language of the blues, and to this day, his songs are played by many blues musicians. You could say he wrote the book on how to play country blues.
And surprisingly his life and recording career were very short. Dang there's only two known pictures of him in the world. And the stories of his life read like a mystery novel with many facts disputed and unclear. He's like a ghost.
And everyone knows the story of Robert Johnson going to a Mississippi crossroads one night, to make a deal with the devil so that he could become a great guitarist. That story is more myth than fact, but it sure does make his story more interesting. If nothing else, the mystery around his life has been mythical itself.
The facts about his life, and death, are vague to say the least. We only know this much…
Robert Johnson was born in the Mississippi delta near a town called Hazelhurst, in around 1911 to a Julian Dodds and a man by the name of Noah Johnson. They weren't married and there were 10 other children around for Robert to compete with. His mother was actually married to a Charles Dodd who was a prosperous furniture maker.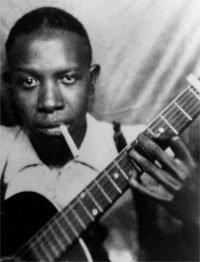 He was called by various surnames growing up, due to the fact he had so many stepfathers. But he himself decided to use Johnson around the time he was in his early 20's and he was known as Robert Johnson after that.
Robert got moved from one location to another as child. At three his mother sent him to live with his father in Memphis. Then he was sent back to Hazelhurst to his mother again. She remarried at least two more times.
He picked up the guitar along the way, supposedly from a brother in Memphis when he was up there. No one knows how he learned in the beginning but his later influences became well known.
Charley Patton and Son House were based in the Cleveland Mississippi area at Dochery Farms plantation. They were older and more accomplished than Johnson and Johnson tried to learn what he could from them. He never learned that well and supposedly he was often ridiculed for his novice playing. Son House remembered Johnson as a 'little boy' who was a competent harmonica player but an embarrassingly bad guitarist.
Crossroads Blues
The Original Robert Johnson Version
Cream Version
Crossroads was made famous by the Cream recording of the song. The lead the Eric Clapton performed in the song is epic. Here's the story of how that version came about.
Red Lasner of TrueFire.com Teaches The Clapton Version
Rory Block Teaches The Robert Johnson Version
Johnson disappeared from the scene for a year or so, but when he came back he was slick and fast and had become a great guitarist. That's when the "deal with the devil" myths started to turn up. That and the lyrics form his many songs that talk about the devil.
Me And The Devil Blues

Early this morning
When you knocked upon my door
Early this morning, oooo
When you knocked upon my door
And I said hello Satan
I believe it's time to go

Me and the Devil
Was walkin' side by side
Me and the Devil, woooo
Was walking side by side
And I'm going to beat my woman
'Til I get satisfied

She said you don't see why
That she would dog me 'round
(Spoken:) Now baby you know you ain't doin' me right don'tcha
She say you don't see why, whoooo
That she would dog me 'round
It must-a be that old evil spirit
So deep down in the ground
You may bury my body
Down by the highway side
(Spoken:) Baby, I don't care where you bury my body when I'm dead and gone
You may bury my body, woooo
Down by the highway side
So my old evil spirit
Can get a Greyhound bus and ride
From 1932 until he died in 1938, between the ages of 21 and 27, Johnson moved from city to city. He was known to be in Memphis, Tennessee and Helena, Arkansas and the smaller towns of the Mississippi Delta and neighboring regions of Mississippi and Arkansas. Sometimes he he traveled much farther. Reports say he played in Chicago, Texas, Canada, Kentucky and Indiana. He supposedly used different names in different places, using as many as eight distinct surnames.
When Johnson arrived in a new town, he would play for tips on street corners or in front of the local barbershop or a restaurant. He had an ability to pick up tunes after listening to them once, so he played whatever the crowd wanted to hear. His contemporaries said he had an interest in jazz and country music as well as blues.
Johnson also had a special talent for connecting with his audience. In every town Johnson would establish ties to the local community. When he came back everyone would remember him a month or a year later.
Recorded Music
His entire recording history amounts to only 29 songs from two sessions of which most became classics. Here's how these recordings happened…
Session 1
H. C. Speir, who ran a general store and doubled as a talent scout, put Johnson in touch with Ernie Oertle, who, as a salesman for the ARC group of labels, introduced Johnson to Don Law to record his first sessions in San Antonio, Texas. The recording session was held on November 23, 1936 in room 414 of the Gunter Hotel in San Antonio.
In the ensuing three-day session, Johnson played sixteen selections, and recorded alternate takes for most of these. Johnson reportedly performed facing the wall, which some cite as evidence of his shyness, but anyone who plays acoustic guitar knows that it sounds better and you can hear yourself better when you sing and play into a wall or window. The recording sounded better that way too. Ry Cooder has speculated that Johnson played facing a corner to enhance the sound of the guitar, a technique he calls "corner loading".
Songs recorded in this session included… "Come On In My Kitchen", "Kind Hearted Woman Blues", "I Believe I'll Dust My Broom", "Cross Road Blues", "Terraplane Blues" and "Last Fair Deal Gone Down". "Terraplane Blues" became a moderate regional hit, selling 5,000 copies.
Session 2
For his second session, in 1937, Johnson traveled to Dallas, Texas, and recorded in a makeshift studio at the Vitagraph (Warner Brothers) Building, 508 Park Avenue, where Brunswick Record Corporation was located on the third floor. Eleven records from this session would be released within the following year.
Songs in this session included… "Love in Vain", "Hellhound on My Trail", "Me and The Devil Blues", "Milkcow's Calf Blues", "Honeymoon Blues", and "I'm A Steady Rollin' Man". All told there were fifteen different songs recorded in this session
Both sessions are available on an album called The Complete Recordings that came out in 1990 on Columbia Records. You can get it here
at Amazon.
His Death
Like so many stories of Robert Johnson, the details of his death are vague and disputed. There's no question that he was killed by an angry husband, but the exact method and time and date are unclear.
He died somewhere around 1938 when Robert was 27 years old. Some accounts say he was poisoned with strychnine, but by all accounts it took him several days to die which is not the way strychnine would kill someone. It would have been much quicker (within hours).
Also they say the poison was hidden in a bottle of whiskey and strychnine would have been easy to detect by the taste.
Other accounts say he died from syphilis. Here's and account that appeared in the official death certificate…
LeFlore County Registrar Cornelia Jordan, after conducting an investigation into Johnson's death for the state director of Vital Statistics, R.N. Whitfield, wrote on Johnson's death certificate, "I talked with the white man on whose place this negro died and I also talked with a negro woman on the place. The plantation owner said the negro man, seemingly about 26 years old, came from Tunica two or three weeks before he died to play banjo at a negro dance given there on the plantation. He staid[sic] in the house with some of the negroes saying he wanted to pick cotton. The white man did not have a doctor for this negro as he had not worked for him. He was buried in a homemade coffin furnished by the county. The plantation owner said it was his opinion that the negro died of syphilis."
Like so many things about Robert Johnson, the confusion only adds to his legacy and makes him larger than life.
Whatever stories you go by, there's no question that his music has stood the test of time, and you can't help but be moved by the lyrics and the proficiency of his playing. He has inspired several generations by his music and I imagine he will inspire many generations more.
If you'd like to learn how to play some of his songs, I recommend checking out TrueFire.com. They have some great lessons on how to play Robert Johnson licks..