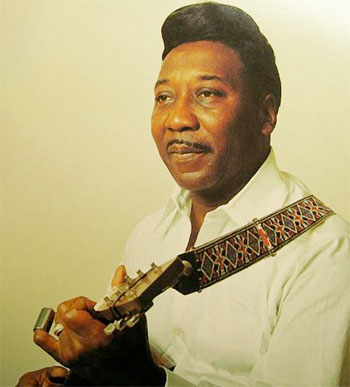 Muddy Waters and Chicago Blues are almost synonymous. The fact is Muddy started down in the Delta, like so many others, but was part of the Great Migration to Chicago in the 1940's and 1950's. He grew up in Mississippi not far from Highway 61, and worked the cotton fields and learned his trade on acoustic guitar playing classic country delta blues.
After his mother died when he was three, he was shipped off to live with his grandmother up north near Clarksdale on the Stovall Plantation. The plantation was not far from the infamous crossroads of Robert Johnson fame. So, yes, Muddy grew up in the heart of where the blues was birthed.
Muddy Waters was born McKinley Morganfield on April 4, 1915, in Rolling Field, Mississippi. Muddy got his nickname from his grandmother because he loved to play in the mud when he was a kid. The Waters came from the kids in the neighborhood who just stuck it on the end of Muddy cause it sounded right. McKinley didn't much care for the name himself but what could he do.
Muddy Waters would become perhaps the best known of all the Chicago style blues men and his influence on later music would echo down through the years. His classic songs like Got My Mojo Working, and Hootchie Cootchie Man, and dozens of others, would be played and replayed by every blues band worth their salt for the next 60 years… and on from there.
Here's what Muddy said about his first guitar…
"When I was seventeen, I put the harp down and switched to the guitar. The first one I got was a Stella. The peopled ordered them from Sears and Roebuck in Chicago. I got about three guitars from Sears and Roebuck before I came up this way (to Chicago)."
Muddy's style comes directly from the Delta and the acoustic masters like Charley Patton and Henry Sloan, and particularly Son House. They all held court down there around Dockery's Farm and in the local clubs up and down the delta. Muddy heard Son House and fell in love with the style and when he was in town Muddy would catch every show.
Yet Muddy's style is really all his own. Like many who try and teach themselves guitar, you don't always imitate what others do accurately. You paraphrase based on what comes easy and natural to you — what you think you hear as much as what is really happening. You add your own idiosyncrasies and that becomes part of your style.
That's really what makes the early blues creators so unique and different from the modern imitators. They had little to go on as they created and re-created the music they heard. It all came out filtered through their own strengths and weaknesses. That's what makes Muddy's music so unique and so hard to imitate. He's really his own man.
Alan Lomax Factor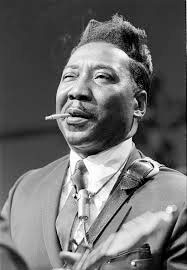 When Alan Lomax came to Mississippi to record "folk" music for the Library of Congress in 1941 he was really looking for Robert Johnson. They found Muddy Waters instead and so they recorded him playing some of his songs one night after supper on August 31, 1941.
Lomax was thrilled because he thought he found the next Robert Johnson and some real authentic country blues being played. What he found was really someone and something that would become something special to the blues in an entirely different way.
But the critical factor was the impression it made on Muddy. He wasn't taking himself too seriously at the time and hadn't really been singing all that long. So when he heard those recording it made a big impression on him.
"I thought, man… this boy can sing the blues, and I was suprised because I didn't know that I sang like that. That was the greatest thing of my life," he recalled later.
Those recordings gave him the confidence to go on and make music his life. He might never have moved north if he hadn't heard those recordings.
North To Chicago
In May of 1943, Muddy caught the Illinois Central and headed off to Chicago carrying only his Stella guitar. This was a common occurrence in the Delta, where thousands of blacks decided that the plantations and picking cotton where no longer where they wanted to be. This great exodus was part of what would be called the Great Migration, where millions of blacks left the south and headed towards opportunity in the cities of the north and the west.
When Muddy got there he found a whole new world of culture, lifestyle, and music. Already there were blues greats like Memphis Slim, Big Bill Broonzy, Tampa Red and Lonnie Johnson. But, at first, he was focused on his day job, which eventually was driving a truck for a venetian blinds factory. He would moonlight playing music but only in his spare time. Eventually, with Broonzy's help and a few introductions, Muddy was playing in joints like the Blue Flame and by 1946 he was making his first recordings for Columbia.
I Feel Like Going Home
Those recordings never went anywhere but eventually he recorded for Aristocrat Records and the Chess brothers. By 1948 he'd made a few mildly successful recordings but nothing that were big sellers. Then finally his tracks I Can't Be Satisfied and I Feel Like Going Home began to sell. Muddy was finally catching on.
The Great Bandleader
By 1951, with hits like Louisiana Blues and Long Distance Call, Muddy started to develop his own national reputation. By this time his band was starting to round into shape with the classic lineup of Little Walter on harp, Jimmy Rogers on second guitar, LeRoy Foster on bass, Otis Spann on piano and Elgin Evans on drums. This lineup produced some of Muddy's classics including Rolling Stone, Mannish Boy, You Can't Lose What You Never Had, and I Got My Mojo Working. So many other less popular songs would also become blues classics like Trouble No More, Gypsy Woman, I'm Ready, Baby Please Don't Go, I Just Wanna Make Love To You, Honey Bee, and many others.
Louisiana Blues
In fact, you'd could argue that one of Muddy's biggest contributions to the blues was as a bandleader. The instrumentation he developed in the late 40's and early 50's was entirely new to the blues. The combination of harmonica, piano, two guitars, and bass and drums was not typical of much of the blues that came before. That electrified combination would become the standard for many blues bands, and rock and roll bands for that matter, for many years to come.
And of course many of the players that came through his band went on to become blues stars themselves including Little Walter, Otis Spann, James Cotton, Buddy Guy, Junior Wells and others.
Willie Dixon
And it wouldn't be fair to talk about Muddy Waters without also talking about Willie Dixon. Willie was a well-known bass player and guitar player in Chicago and was actually a major component of Chess Records in their production department. He wrote many of Muddy's most popular songs including Hootchie Coochie Man, I'm Ready, My Babe and I Just Wanna Make Love To You. But he also wrote other blues standards like Little Red Rooster, I Can't Quit You Babe, Spoonful, Built For Comfort, Bring It On Home, and You Can't Judge a Book by the Cover. He also played bass on many of Chuck Berry's hits while he recorded at Chess.
Newport Folk Festival Rolling Stone – with Otis Spann (piano, vocals), Pat Hare (guitar), James Cotton (harmonica), Andrew Stevens (bass) and Francis Clay (drums)
Got My Mojo Working
Those musical creations during the 50's, with that sound and those arrangements, would become THE Chicago Blues sound, and bands to this day, are still trying to emulate what that band created back then. Not many get it right.
The Reemergence and Come Back
Muddy said "Blues had a baby and they called it rock and roll." His words would become prophetic, as rock and roll all but killed The Blues in the late 50's and early 60's. Muddy's career just about died out, as gigs and recordings dried up for him. The king of Chicago Blues was becoming obsolete.
Classic Video Of Muddy Playing Great Slide – Train Fare Home Blues from 1968
It took the British Invasion in the mid 60's to bring it back via English bands like Cream, The Rolling Stones, Fleetwood Mac, The Animals, John Mayall and the Bluesbreakers, and The Yardbirds. There were many more English bands, based on the blues, that loved all forms of American Blues. But it was the Chicago Blues that seemed to resonate the most with these blokes.
A big reason for the British love of the blues was a series of concerts put on during the early 60's called the American Folk-Blues Festival. German promoters brought over American blues greats from 1962 to 1966 (some shows went into the 70's) and had them perform for audiences in both England and Germany. You can read all about it, and watch videos on this page.
These concerts not only spawned bands like the ones above, but rejuvenated the careers for many who were featured. Leading blues artists of the 1960s, such as Muddy Waters, Howlin' Wolf, Willie Dixon, John Lee Hooker and Sonny Boy Williamson found a whole new audience and appeared during their peak at these concerts. Some performances found them playing in unique combinations such as T-Bone Walker playing guitar for pianist Memphis Slim, Otis Rush with Junior Wells, Sonny Boy Williamson with Muddy Waters. The Festival DVDs include the only known footage of Little Walter, and rare recordings of John Lee Hooker playing harmonica. The quality of the videos and the performances are excellent.
For Muddy, these concerts, and the popularity they brought to the blues, gave his career a big boost. Chess Records (formerly Aristocrat), through Leonard Chess's son Marshall, recorded several new albums of Muddy and he began to tour nationally and worldwide again. A new audience of Baby Boomers learned all about Muddy and his style of Chicago Blues.
The Rolling Stones Sit In
Many of those Baby Boomers, like myself, are still playing the blues today as a result of the love we found for this great music during the late 60's. I saw Muddy play at my college in the late 70's in an old dining hall, standing just a few feet away from the stage. I probably didn't appreciate it at the time, but clearly I was seeing a blues legend in action.
When Muddy died in 1983 he was still on top. And there's no question that his legacy and popularity will go on for years to come.
Live Concert from Montreax Jazz in 1974 with Buddy Guy and Junior Wells
Learn Some Muddy Songs
Here's a TrueFire.com Video for how to play "Hoochie Coochie Man"
Here's  a page that will teach you how to play "Got My Mojo Working"