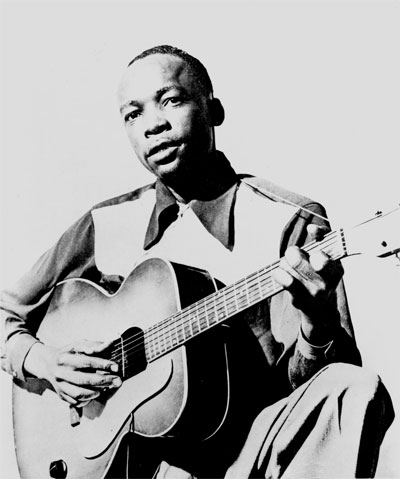 Any discussion of the blues creators has to put John Lee Hooker in the mix. His unique and soulful style and classic songs have formed the bedrock of the blues language for many years. He really invented the "boogie" style of blues rock song and songs like Z.Z. Top's La Grange, owe him big time for a big part of their style and success. More about what I mean by "boogie" later.
Also he defined the "talking blues" song style and those songs are filled with stories and insights into the world of a black American in the 40's, 50's, and 60's. His tune "House Rent Boogie" is a classic and tells the story of a negro's life.
Early Days
Like so many of the greats, John Lee was born in the Delta around Clarksdale, Mississippi in 1917, although the date and location are sometimes disputed.
He was the youngest of the eleven children of William Hooker, a sharecropper and Baptist preacher, and Minnie Ramsey.
In 1921, his parents separated. His mother married William Moore, a blues singer who provided Hooker with his first introduction to the guitar. John would credit Moore for his own distinctive, one-chord style.
At the age of 15, John Lee Hooker ran away from home, reportedly never seeing his mother or stepfather again.
Through the 1930s, Hooker lived in Memphis, Tennessee and played on Beale Street and occasionally performed at house parties. Later he moved around looking for work in factories in various cities during World War II. Eventually he found himself in Detroit in 1948 working at Ford Motor Company.
Detroit was noted for its pianists and guitar players were scarce. He started performing in many Detroit clubs and his popularity started to grow quickly. Soon he needed to be louder to be heard so he bought his first electric guitar.
Recording Career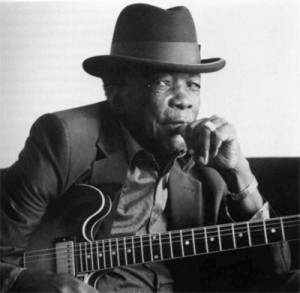 Hooker started recording for the Bihari brothers, owners of the Modern Records label in Detroit around 1949. His first hit, "Boogie Chillin" was released on that label. But like with so many other blues men and women, the Bihari brothers, took song writing credit on many of his songs, and John Lee was lucky to make any money at the end.
But Hooker, again like so many others, kept writing songs and although many were derivative of other blues songs, he eventually became known as a reliable songwriter and would often go from studio to studio making up songs.
He did have a contract with the Bihari brothers, so he would record these songs under various pseudonyms such as John Lee Booker, notably for Chess Records and Chance Records in 1951/52, as Johnny Lee for De Luxe Records in 1953/54 as John Lee, and even John Lee Cooker, or as Texas Slim, Delta John, Birmingham Sam and his Magic Guitar, Johnny Williams, or The Boogie Man. Where there's a will there's a way.
In the 60's, John Lee Hooker was well known to the English blues men and to the American Woodstock crowd as well. The Animals recorded several of his songs, notably "I'm Mad", and introduced him to the American audience. That's where I first heard him.
An album he did with several American rock artists called "Endless Boogie", was popular with the college music scene, and had him jamming with the likes of Steve Miller, Carl Radle, Jim Gordon, Jesse Ed Davis, and others. Not a great album by any stretch, but it did turn many on to The Hook for the first time.
His songs have been covered by Buddy Guy, Cream, AC/DC, ZZ Top, Led Zeppelin, Tom Jones, Bruce Springsteen, Jimi Hendrix, Eric Clapton, Van Morrison, The Yardbirds, The Animals, The Doors, The White Stripes, MC5, George Thorogood, R. L. Burnside, and The J. Geils Band. And of course, in 1980, he was featured in the Blues Brothers movie and album.
Ultimately, John Lee Hooker recorded many, many albums, probably more than any other of the early bluesmen. Yet he often is left out of the conversation when we talk of the most-influential of the originators of the blues. He clearly was a big factor in spreading the blues, particularly his "boogie" style. It was partly because he was from Detroit and not Chicago.
His Endless Boogie Style
Hooker's signature style and songs revolve around a one-chord groove that comes directly from boogie woogie piano. Songs like Boogie Chillin, Doin' The Shout, Dimples, and House Rent Boogie wrote the book on this style that would covered and imitated by countless blues bands.
In fact, you can count on any fledgling blues band and new guitarist taking a stab at this style. The style is basically one chord throughout the song so that meant you didn't need to be any sort of chord expert. If you could play an E chord (the first one that everyone learns) you can play John Lee Hooker songs. Of course there's a big difference between playing them and playing them right. But everyone's got to start somewhere. It's great to start with something easy and soulful.
And that's the enigma of John Lee Hooker. He was no great guitar player. He seemed to always be a little out of tune, and there was never any sense of consistent 12 bar structure to his songs. He changed chords whenever he felt like it. But there was no shortage of blues feelin' and soul in his music. And his lyrics were always spot on. I love the words to I'm Mad myself…
Had a friend one time.
At least I thought he was my friend.
Now he came to me. Said I ain't got no place to go.
I said take it easy man. You can come home with me.
I'll get you a pilla, where you can rest your head.

Took him home with me. Introduced him to my baby.
Let him drive my cadillac that I could not afford.

Then I found out he been messin round with my baby.
He begin to to talk to her. Made her think the moon was blue.

Now let me tell you brother I'm mad.
I'm mad for you.
These words are powerful poetry. You can almost see the story unfolding in your imagination.
The Animals Doing "I'm Mad"
Last Years
In the last few years of his life, John Lee was doing pretty good. He had a couple of hit albums thanks to Carlos Santana and Van Morrison. He was seeing good money coming in. He was living comfortably on the West Coast near San Francisco. He had other homes he owned and visited when he wanted to. And he had a stretch Limo at his beck and call. Not bad for a sharecropper's son. I guess longevity had its benefits. Now most of the creators are gone. It's left to us imitators to carry on the tradition.
John Lee Hooker fell ill just before a tour of Europe in 2001 and died in his sleep on June 21 at the age of 83, two months before his 84th birthday. He was interred at the Chapel of the Chimes in Oakland, California.