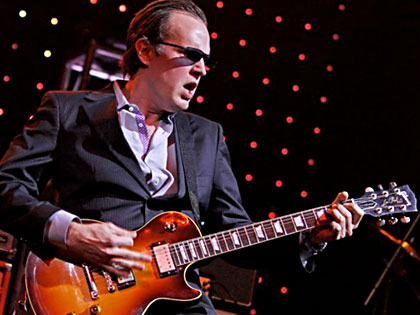 Joe Bonamassa is probably the most popular of all the young blues guitarists today. His mix of blues and rock styles, with flashy, high-energy showmanship, along with world-class chops give him wide appeal with both fans and guitarists alike. He can also sing like a bird as well. It all adds up to a complete blues guitarist.
Along with Kenny Wayne Shepard, Damon Fowler, Matt Scofield, and Johnny Lang, this new crop of blues kids is truly keeping the blues alive. Actually, although all have been around since they were in their teens and early 20's, as they age they continue to keep blues guitar music popular.
History
Joe was born in 1977 in New Hartford, New York to parents who were musicians and owned a music store. So he's no "kid" anymore, but people still think of him that way. Perhaps because our early memories of him were when he was very young.
He remembers at age 7, sitting with his parents on Saturdays and listening to Guitar Slim, Bonnie Raitt, Crosby, Stills, Nash, and Young, Eric Clapton, and Jethro Tull. His music is really a mix of all the various rock and blues he heard as a youngster.
Bonamassa really had a very eclectic time as a youngster learning the guitar. He got his first guitar from his father at the age of 4, and by 7 was playing Stevie Ray Vaughan and Jimi Hendrix songs note for note. He went well beyond what his guitar-playing father could teach him by age 7.
At the age of 11, he was taught by Danny Gatton, and learned country and jazz styles as well as even polka music. During this time with Gatton, Bonamassa sat in with Gatton's band whenever they played in New York.
With Danny Gatton at 12
Here's Joe at 13, on the TV show Real Life with Jane Pauley…
Not your typical teenager.
In fact, you can argue, after watching this video, that he was born with this skill and talent. Where else could it come from. It certainly makes a good case for reincarnation. 😉
He first opened for B. B. King at age 12. At 14, he was invited to attend a Fender guitar workshop in California. During that trip to the West Coast he met Berry Oakley, Jr., son of the deceased Allman Brother's bassist. With Oakley he founded the group Bloodline, along with Miles Davis' son Erin and Robby Krieger's son Waylon. They released one album which produced two chart singles — "Stone Cold Hearted", and "Dixie Peach."
He has since played with all the greats including Buddy Guy, Robert Cray, Joe Cocker, Gregg Allman, Warren Haynes, Eric Clapton, Derek Trucks, Eric Johnson, and Jack Bruce.
Influences
Bonamassa was influenced more by the English blues players than the American players. Of course, those English players were influenced by the American greats so you can say he was still connected to the blues from America. But Joe found the English blues, as played by Jeff Beck, Eric Clapton, Jimmy Page and the great Irish blues player Rory Gallagher, to be more interesting to him than the original Delta blues players.
As he said in an interview… "I think, the English interpretation of the blues just hit me a lot better, you know?"

Although he does admit that B.B. King was a big influence. "He's probably my biggest traditional influence," Joe said in an interview.
If you listen to Joe you can hear all of the above in his playing. But I would also add I hear a bit of Stevie Ray Vaughan in there too (which of course leads us back to Albert King). He really encapsulates all that came before.
This cover of a Jeff Beck song from the Truth Album, is a great example…
Blues Deluxe
I think overtime Joe has opened up to other influences. Blues guitar is a lifelong journey, and there's plenty to learn about the blues and about the many great blues guitarists. Not to mention all of the possible guitar and equipment combinations. In a video below he claims that Freddie King was a big influence. So the bottom line is… Joe is still being influenced. He is a work-in-progress that will be evolving for a long time.
And this brings up a good point…
Any blues guitarist today has to admit that everyone who has come before is an influence. Bonamassa may be the best example of a blues guitarist who is a jambalaya of all the greats. You can practically taste it in his playing. A pinch of Stevie Ray here. A touch of B.B. in that lick. A Jimmy Page run over that chord. It's all there!
Which just goes to prove, how great the originators like B.B. King, Muddy Waters, Albert King, Albert Collins, and Buddy Guy actually were. They had no one to learn from. They had to create their own style. They had a "tabula rasa", a blank slate to work with. You've got to give them credit for that.
But Joe is his own man, his own guitarist now. Whatever influences he may have had, no matter where it all comes from, he is a great guitar player now and has been for a long time. You can't deny it.
Joe Bonamassa's Gear
Joe uses a wide variety of gear. All types of guitars. Some Marshall style amps but he also mixes in Fender amps and others as well. And an array of pedals that would choke a horse. As I watched the videos below, I couldn't help but wonder what he will be using in 20 years. I'm willing to bet he will be simplifying and using far less gear. I guess we'll see.
Pedal Board Review circa 2005 (I'm guessing)
Amps and a different set of pedals
An even later gear overview by Joe (Part 1)
Part 2 – Guitars
Here's a site that is dedicated to Joe's gear. I'm sure it's always changing so it may be a good place to keep up.
Joe Bonamassa Videos
There's no shortage of Joe Bonamassa videos on YouTube. Here's a selection of some of the other ones I like.
Montreaux Concert – 55 minutes
Slow Gin on Rory Gallagher's strat
Montage of Songs From His Live At The Viena Opera House DVD
Just Got Paid – North Sea Jazz Fest – 2009