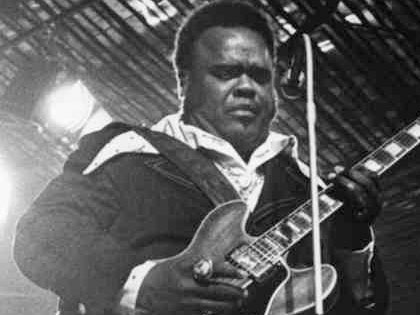 Freddie King really was a great bluesman and songwriter… not to mention a big influence on many of the blues guitarists that came after him. He's one of the three "Kings of the Blues" along with B.B. King and Albert King.
And if you dig into his songwriting you begin to realize he wrote or co-wrote some of the greats. Here's a short list…
Big Legged Woman
Goin' Down
Hideaway
I'm Tore Down
The Stumble
San-Ho-Zay
Have You Ever Loved A Woman
But his influence on guitar players went far beyond the songs he wrote. His singing and high-energy style, set much of the tone for blues rockers like Eric Clapton, Peter Green, and Jeff Beck, as well as other British Invasion blues boys. Eric Clapton recorded many of his songs and really brought Freddie King's music to the attention of the public. King really set the bar for the blues/rock style that is still the most popular style of The Blues.
He's number 15 on Rolling Stones's list if the Top 100 Greatest Guitarists.
And his sound is very definitive. He used metal banjo thumb and finger picks to get a very aggressive, sharp attack and tone.
Early History
Freddie King was born in September of 1934. When King was only six, his mother Ella Mae and his uncle began teaching Freddie guitar.
In 1949 his family moved from Dallas to Chicago. But even though he spent most of his career in Chicago, he is still identified with the Texas style of blues guitar players. His nickname "The Texas Cannonball" is a nod to his style and his heritage.
Supposedly he took on the surname King because he wanted to be recognized with B.B. and Albert as one of the "kings of the blues" and that is still how he is known. His real name is Freddie Christian. He is over 10 years younger that Albert King or B.B. King.
In Chicago he played with all of the top names including Jimmy Rogers, Robert Lockwood, Jr., Eddie Taylor, Hound Dog Taylor, bassist Willie Dixon, pianist Memphis Slim, Magic Sam and harpist Little Walter.
He was rejected by Chess Records for sounding too much like B.B. King but eventually recorded for Federal Records and began to have some hits in the early 60's.
King recorded "Have You Ever Loved a Woman" backed with "You've Got to Love Her with a Feeling" (as "Freddy" King). He cut the instrumental "Hide Away" at the same session and it reached #5 on the R&B Charts the next year and #29 on the Pop Singles Charts. This was an unprecedented accomplishment for a blues instrumental.
Willie Dixon later claimed that he had recorded King doing "Hide Away" for Cobra Records in the late 1950s, but such a version has never been found.
"Hide Away" has since become a blues standard and recorded by many people including Stevie Ray Vaughan. Eric Clapton's version on the classic album with "John Mayall's Bluesbreakers with Eric Clapton" in 1966. It's a song that is often a "must-learn" for every aspiring blues guitarist.
That's several arguments about who actually wrote Hideaway but there's no question that Freddie King's version is the definitive one.
Later Recording Career
When King's Federal Records contract ran out he was grabbed by producer and saxophonist King Curtis, who had recorded a cover of "Hide Away," with Cornell Dupree on guitar in 1962. Curtis signed King to Atlantic in 1968, which resulted in two LPs, Freddie King Is a Blues Master (1969) and My Feeling for the Blues (1970), produced by Curtis for the Atlantic subsidiary Cotillion Records.
In the early 70's he was signed by Leon Russell's Shelter Records label and treated as an important artist. He was added to many of the rock and roll tours of the day and got great exposure among white rock and roll audiences. He never has any other major hits but he toured regularly and became a staple of the blues/rock scene.
King's Style
Freddie was always identified with the more rock-oriented blues style. His sharp tone and vicious attack went over well with the white rock audiences and clearly separated him from the style of the other two "Kings of the Blues."
Using the metal finger picks just increased the sound of attack on those strings on his Gibson hollow-body guitars for which he was known. Plus he had an aggressive vibrato where he seemed to grab the strings and squeeze them to death.
He seemed to play many different amps including Gibson's and Fenders and on the videos below you see him playing several different amplifiers. He seemed to settle on various Fender amps in later years along with his Gibson ES-335 and 345 models of guitar.
He Died Young
Like so many of the era, constant touring took a toll on King (he was on the road almost 300 days out of the year), and in 1976 he began suffering stomach ulcers. His health got worse after that and he died on December 28 of that year of complications from that and acute pancreatitis at the age of 42. According to those who knew him, King's death was due to both stress and poor diet.
Freddie King Videos
Thankfully there are some great videos of King thanks to his touring and legacy from the 1970's. Here's a few that I like.
Big Legged Woman