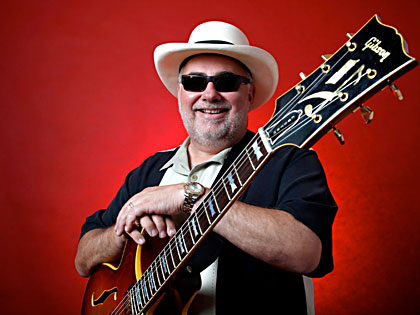 Duke Robillard is a well-known blues guitarist on the jazzy side of the blues. He was an original member and founder of Roomful of Blues, one of my favorite bands. He formed Roomful back in the late 60's.
I first saw him play with Roomful of Blues at a small club in Western Massachusetts in the early 70's. They were a full-fledged 40's jump/swing blues band even then, including the sound and the look, including 40's clothing, acoustic piano and all. As you can imagine, they were a little different from the hippie, country-rock bands of the day.
They made a big impression and although I wasn't really hip to that style of blues at the time, I never forgot them and did keep an eye on them and Duke as they progressed. And they kept getting hipper as I learned more about music and The Blues.
Duke's Early Years
This from Duke's official website…
"Duke had his first band in high school — he was born in Woonsocket, Rhode Island — and he was fascinated from the beginning by the ways in which jazz, swing, and the blues were linked. In 1967, he formed Roomful of Blues, and the band was tight enough and tough enough to accompany two of its heroes, Big Joe Turner and Eddie "Cleanhead" Vinson on record and in live appearances.

Always ahead of his time, Duke's first band pre-dated the renewed interest in jump blues by more than a decade — and almost 20 years later, in 1986, when he recorded with jazz sax master Scott Hamilton, he recorded a collection of classic big band tunes from the '30s and '40s, thus skillfully pre-dating the neo-Swing craze of the mid '90s.

Roomful of Blues — which still continues, forty years later — gave Duke his first exposure to a wide public, and when he left after a dozen years, he played briefly with rockabilly king Robert Gordon, then cut two albums with the Legendary Blues Band (a sterling collection of former members of Muddy Waters' band). He led his own band until 1990, and then replaced Jimmy Vaughan in the Fabulous Thunderbirds."
That gives you a sense of Duke's early roots and to be sure, Duke is an encyclopedia when it comes to the early R&B, jump blues style of the 40's and 50's and particularly T-Bone Walker.
But the big effect Duke had on the blues, in my opinion, was expanding everyone's ear beyond just the Chicago and Delta blues styles, although he can play those styles as well. He introduced me, through Roomful of Blues, to other music that became my personal favorite styles of blues. Sure he was years ahead of his time with his jump and swing blues guitar playing. But he has also helped me appreciate song arrangements and tasty guitar playing. He always emphasized that blues is about more than flashy, loud guitar leads. It's about "the song" with great arrangements and perhaps an expanded use of other instruments besides electric guitar, bass, and drums. Adding horns and keyboards, particularly the B-3 Organ, really expanded the blues sound to my ears.
Even his Duke's Blues album (my favorite), which is far more rockin' Chicago style than his jazzy swing style, shows a sophisticated arrangement sensitivity that turned this guitarist on to much more than hot solos in the Stevie Ray Vaughan style. He opened my eyes and ears to a much deeper and richer style of blues.
In short, I think Duke helped take the blues to a new level for many of the new generation of blues guitarists. Many of my blues-loving musician friends, who were brought up on Eric Clapton and Jimmy Page, and of course Stevie Ray Vaughan, where now talking about T-Bone Walker, Ronnie Earl and Duke Robillard. Blues was moving from really a form offshoot of rock music to a jazzier, more sophisticated style.
And the guitar sounds were changing too. They moved from the distorted, fat tone of a Clapton or Page, to a cleaner, jazzier sound of Ronnie Earl or T-Bone Walker. Duke sometimes used big, hollow-bodied guitars with a different sound from Stratocaster's and Les Paul's. Now these cleaner tones meant less sustain and distortion, so the style of playing had to change too. Cleaner tones required more touch and better technique. You can't hide behind distortion when you are playing with a clean sound.
Plus harmonically Duke expanded the range of notes available to the blues. No longer confined to pentatonic major and minor scales, now he showed that there were many other scales and notes that could be added to the blues. Of course, this is the jazz influence he brought to all his playing.
Duke's career went on to have many other highlights.
He replaced Jimmy Vaughan in The Fabulous Thunderbirds.
He played with Jimmy Witherspoon and Bob Dylan, as well as Robert Gordon, Jay McShann, Johnny Adams, John Hammond, Pinetop Perkins, Tom Waitts… just to name a few.
BB King himself has called Duke "One of the great players," The Houston Post called him "one of God's guitarists. And the New York Times says "Robillard is a soloist of stunning force and originality."
A Great Selection of Duke Robillard's Albums
Awards
He has been nominated for and has received numerous awards over his career. Awards include:
2007 Rhode Island Pell Award for Excellence in the Arts
2001 "Best Blues Guitarist" W.C. Handy Award
2000 "Best Blues Guitarist" W.C. Handy Award
Robillard has also been nominated for:
2007 "Best Contemporary Blues Album" for "Guitar Groove-A-Rama" Grammy Award
2010 "Best Traditional Blues Album" for "Stomp! The Blues Tonight" Grammy Award
But enough talk. Let's watch some videos to show what the man is all about.
Love Slipped In
Gee I Wish
A Full Set of Duke's First Solo Band The Pleasure Kings circa mid 80's
This is a very cool set with Duke playing some slide on Elmore James, and even a Chuck Berry song, along with his usuall jump and swing style blues. He mostly plays hollow-body guitars on these songs.
Blues For T-Bone (Duke at his "slow blues" best)
His Jazz Band Playing "High-Heel Sneekers"