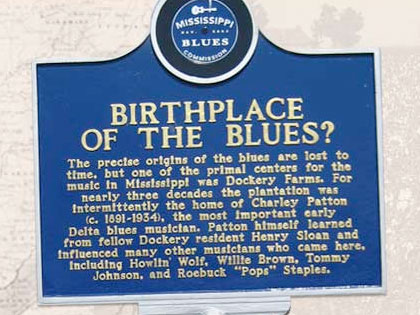 It's generally acknowledged that blues music got started in the river towns of Louisiana and Mississippi. They say black sharecroppers and field hands sang "hollers" while working in the fields and these songs formed the roots of blues music. And when some of these workers got their hands on a guitar, they turned that music into what we call the blues today. Or at least what we call "country blues."
Now back in the late 1800's freed blacks made their living working on plantations usually as sharecroppers. A sharecropper worked the land for it's owner and in return got paid for their crop at the end of the season. There were hundreds of these plantations around the delta and thousands of blacks working them.
One of the largest was Dockery's Plantation, between Cleveland and Ruleville Mississippi, about 20 miles from the Mississippi River. Dockery's had a reputation for treating its workers fairly, and paying them well, so it had a large, consistent group of workers.
One of these workers was an ambitious man by the name of Bill Patton. His son Charley Patton became one of the most famous innovators of blues guitar and influenced many of the other early innovators.
Charley Patton was born around 1891 and played throughout the delta region, traveling often by train, and used Dockery's as his home base. Patton learned much of his style from fellow Dockery Farms worker Henry Sloan who played a raw style of guitar that Charley seemed to like. This style was closer to what we call "the blues" than the other music that Charley had been playing for house parties and for the white folks.
Green River Blues CHARLEY PATTON (1929) Delta Blues Legend
And besides Patton and Sloan, other great blues guitarists also lived at Dockery Farms. In particular Son House and Tommy Johnson learned directly from Patton. Also someone by the name of Willie Brown, who supposedly eclipsed Patton's musical skills. And it's said that Howlin Wolf and even Robert Johnson had a lesson or two from Patton.
Son House Death Letter Blues
And many other guitarists, even if they didn't live there, came by to pick up what they could from the accomplished players there. And if you play guitar you know what you do when you see someone you like. You follow them to gigs and other parts of the area to watch them play every chance you get. And there were many other plantations with many other guitarists as well that spawned this new music.
So although Dockery Farms had some blues guitarists living there and that's where it all got started, is like saying that Chicago blues only got started in Chicago. Players came from all over there to worship at the alter. And they then took their "religion" with them wherever they went. They brought what they already knew with them and left with something new added to it. They were disciples of some players and other players became disciples of them.
Henry Sloan: Some Say This Is the First Song Heard by WC Handy
But still it can't be denied that Dockery Farms was a catalyst in making the blues as we know it grow and thrive. It was an incubator for the blues. The plantation and the whole area around Cleveland and Ruleville, and Drew Misssissippi, had a reputation as the place someone went to learn how to play blues guitar.
And of course many of these musicians were itinerant. You could no longer keep them in one place than you could keep the sound of music in one place. They'd jump on a train and be gone to the next town that was willing to pay someone to play music on the corner or at some house party or in some roadhouse along the way.
Dockery Farms Today
It's funny how Dockery Farms has embraced its own blues history. At the time, the owners ignored the blacks playing the blues on their own property… or worse. But today they have a small museum and a website dedicated to the story of Dockery Farms and it's enlightened owner, Will Dockery.
To their credit, they founded a foundation with…
The mission of the Dockery Farms Foundation is to preserve the historic property and heritage of Dockery Farms and to develop these for educational purposes and the public interest in music, agriculture, and the history of the Mississippi Delta. The foundation seeks charitable contributions from individuals, government organizations, and other foundations. The Dockery Farms Foundation is a private operating foundation and a tax exempt entity within the meaning of Section 501(c) (3) of the Internal Revenue Code of 1986 and the Mississippi Nonprofit Corporation Act.
And before you start saying this is just greed… see that the foundation's advisory council includes people like T-Bone Burnett, Herbie Hancock, Quincy Jones, and Hodding Carter III.
I've been there myself, and although it's not much to look at, the ghosts haunt the place and you can't help but be moved. If you ever get the chance to make the trip to The Mississippi Blues Trail, I highly recommend it.
So there is no doubting the effect Dockery Farms had on the birth of the blues. At the very least, Will Dockery created a fertile environment where blues men like Patton, Sloan, Brown, Johnson and many others developed their craft and spread this brand new American art form that we call the blues. You can visit their website here.