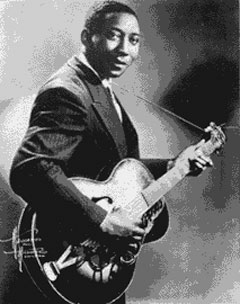 So here's this sharecropper in Mississippi working for not a lot of money. There are no guitar stores in Clarkdale in 1920. So just where did Robert Johnson, Son House, Muddy Waters, and Charley Patton get their guitars?
From a Sears catalog, that's where.
In 1888, Richard Sears first used a printed mailer to advertise watches and jewelry. Under the banner "The R.W. Sears Watch Co." Sears promised his customers that, "we warrant every American watch sold by us, with fair usage, an accurate time keeper for six years – during which time, under our written guarantee we are compelled to keep it in perfect order free of charge."
By the 1920's Sears had all kinds of things in their catalog. This catalog expanded from watches and jewelry, offering merchandise such as sewing machines, sporting goods, musical instruments, saddles, firearms, buggies, bicycles, baby carriages, and men's and children's clothing.
And for someone who lived miles from a big city the Sears catalog offered a powerful glimpse into the outside world and all the "stuff" that the rest of the country had access to. It must have been bittersweet for a poor sharecropper who picked cotton for a living to see all there was to buy in that catalog. But for a busy farmer it was a very convenient way to get what they needed for a reasonable price.
I guess that goes for Delta Blues guitarists too.
Sears first offered guitars in its 1894 catalog. The guitars were possibly made by the young Harmony company. Guitar historian Michael Wright suggests that Chicago guitar maker Joseph Bohmann may have made some of the lower-end models. The top of the line guitars were advertised as being Washburns.
The guitars in the 1894 catalogs ranged in price from $4.50 for an "American made Guitar, standard size, back and sides made of maple and handsomely finished in imitation of either Rosewood, Mahogany, or Oak, all highly polished, yellow top, imitation ebony finger board, position dots; patent head, raised frets, warranted for one year," to $26 for the "Washburn American Guitar, of solid rosewood body, mahogany or cedar neck, ebony finger board, inlaid, warranted not to warp or split, concert size." The buyer is advised to use silk and steel strings, with the warranty voided if the instrument is strung with steel strings.
By the early 1900's the Sears guitar line had expanded and quality was improving. The two top-of-the-line guitars, the Richard and the Seroco, were almost certainly made by Stewart & Bauer in Chicago. The Richard had rosewood back and sides, an Eastern spruce top, inlay around the sound hole and the edge of the top, binding on both the bottom and the top, a mahogany neck with a rosewood veneer head, and a convex ebony fingerboard inlaid with pearl. It sold for $15.50 for standard size, $16.75 for concert size, and $18.25 for the grand concert size. These were good quality guitars but still cost more than a months wages for a field worker back then. But on the lower end you could still get a guitar for under $5.
So that's where the guitars played by early Delta guitarists came from. Mystery solved.
Many of these early guitars were Stella guitars made by the Oscar Schmidt Company in New Jersey. Here's a website with some of the history of early Stella guitars.
Some of this information for this article came from 19th Century Guitar website.