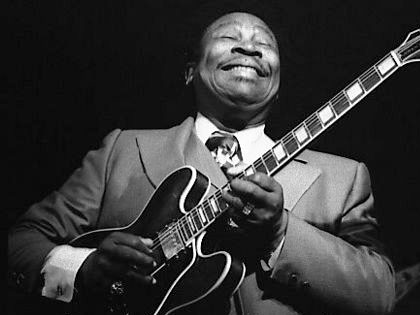 Everyone knows who B.B. King is. He's probably the most well-recognized of all the current blues musicians and guitarists in the world. His hits like The Thrill Is Gone and Every Day I Have The Blues are two of the most recognizable blues songs of all time. But not many people know his history or his early music. There's no question that B.B. paid his dues and earned his justification for Why I Sing The Blues, one of his songs. His early painful life created the man and the musician we know today.
And like many historical facts about blues guitarists, there is confusion and disagreement about the details. So many of the following "facts" are subject to discussion. Feel free to comment at the bottom of the page.
Early History
Riley B. King was born in small cabin on a cotton plantation outside of Berclair, Mississippi, to Albert King and Nora Ella Farr on September 16, 1925. In 1930, when King was four years old, his father abandoned the family, and his mother married another man.
His mother was too poor to raise her son so King was raised by his maternal grandmother Elnora Farr in Kilmichael, Mississippi near Indianola. Not many people know that when he was around 10 years old his grandmother died and he lived on his own in her house, by himself, for a couple of years before his absent father eventually came and got him and took him to live with him.
He didn't get along with his father's new wife so he walked the 50 miles back home to Kilmichael. He was eventually taken in by a white family, who actually bought him his first guitar. So not everything you hear about southern whites is true.
Early Music
King grew up singing in the gospel choir at Elkhorn Baptist Church in Kilmichael, Mississippi. At age 12, he purchased his first guitar for $15.00 although another reference indicates he was given his first guitar by his cousin, Bukka White. I agree with the fact that his white foster parents got it for him. Again, many of the "facts" are hard to pin down.
King may have been raised around traditional delta blues but he gravitated to jazz, swing, mainstream pop, and jump blues and turned it into his own unique sound. So he is really known more for the urban uptown blues sound of a T-Bone Walker and a Louis Jordan, and not the simple acoustic blues of the Delta where he came from. His influences also included Django Reinhardt, Charlie Christian and Lonny Johnson and the guitar player in Bob Will's Texas Playboys named Leon McAuliffe. I also hear a bit of the smooth jazzy cool of a Nat King Cole in his playing too. B.B. was also inspired by Hawaiian music and slide guitar of the 40's as well.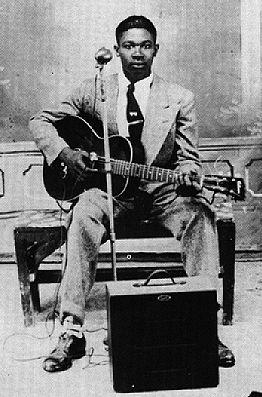 In 1943, King left Kilmichael to work as a tractor driver and play guitar with the Famous St. John's Quartet of Inverness, Mississippi, performing at area churches and on WGRM in Greenwood, Mississippi. He was on his way to becoming a professional musician for the rest of his life. He sometimes made the trip to Memphis to try and make a living as a musician but it seems he failed and returned home more than once. Still he persisted.
His big break came when he got a gig playing on the Memphis radio station WDIA when he used to sit in with Sonny Boy Williamson II. He eventually got his own show and that was the beginning of his fame and soon he was working with his band over 300 nights per year. He did that for over 30 years.
What Makes B.B. King Special?
Over the years, King has developed one of the world's most identifiable guitar styles. He borrowed from Blind Lemon Jefferson, T-Bone Walker and others, integrating his precise and complex vocal-like string bends and his left hand vibrato, both of which have become indispensable components of a great blues guitarist's vocabulary.
His trademark vibrato and tone can be identified within seconds and his vocals and guitar work together as one. And don't underestimate his singing as being a big part of his appeal and that unique B.B. King sound. It's hard to separate one from the other as being the "B.B." signature sound to the average listener.
Of course, Lucille, his Gibson ES 345 guitar, has a lot to do with that. And he's used various amps through the years including a Lab Series L5 through the 80's and recently Super Reverbs.
His economy and phrasing have been a model for thousands of players, from Eric Clapton and Peter Green to Joe Bonamassa and Derek Trucks. They all rave about the influence B.B. has had on their playing… and they praise not only his playing but his kind spirit.
And in my opinion when you hear the B.B. King of the 50's and 60's you are hearing the best of B.B. Unfortunately that's not the guitar player that you hear today. He was much more uptempo and jump blues back in those days. He had a rawness and a wider vocabulary of licks. I love that early B.B. King. Of course he hadn't evolved to that signature guitar sound yet either.
Here's an old compilation album that shows that early, raw powerful version of B.B. King. The CD is called Singin' The Blues and has 24 great tracks on it. It's one that should be in every B.B. King lovers collection. But even if you don't buy it you really should find it to listen to just to hear the young B.B. King.
But you really can't quibble about which B.B. King is the best. He has always been the epitome of taste and tone, two of the three pillars of what makes a great blues guitarist in my mind.
Although it was his recording of The Thrill Is Gone in 1971 that propelled him into the pop music mainstream — he won the Grammy for Best Male R&B Performance that year – just about every song he has recorded over the years drips of class and style. And of course his bands have always been top quality. And the fact that most have been with him for many years is proof of that class. And his longevity has stood him well as more and more people have grown to love him and his guitar playing. And rightly so.
BB finally left us on May 14, 2015. He lived to a ripe old age of 90 years and left us a lot of great music to listen to. Here's a sampling of some of his best videos.
A Complete Show from 1983
Live Show Some Consider One of the Best Live Show
BB King – Why I Sing The Blues – Live In Africa 1974
B.B King – Live in Stockholm 1974