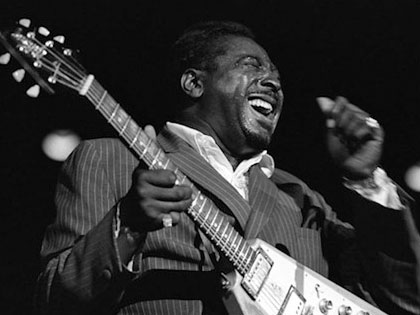 For many blues guitarist's, Albert King is the best of the modern blues guitarists. Count Stevie Ray Vaughan among that list. Count me on that list too. And once you hear him I bet you'll agree. His style is truly his own and he exemplifies what I mean by "tone, taste, and technique."
He's definitely not the fastest or the flashiest blues guitarist. But he can say more in one note than just about anyone else. And that includes B.B. King, the master of sparse, emotion-packed playing. His signature bends and note stretches are lyrical yet powerful. You hear a whole lot of Albert in Stevie Ray's playing… sometimes too much once you know where he got them. But at least Stevie Ray gives credit where credit is due.
It's clear that the Kings of the Blues, Albert King, along with B.B. King, and Freddie King, are some of the guitarists who wrote the book on how to play blues guitar. Most who come after, just copied or re-wrote the book, at best.
History
Albert King was born on April 25, 1923 in Indianola, Mississippi and died on December 21, 1992. If that city sounds familiar, it's because B.B. King was born a mere 15 miles from Indianola and often worked in that town. B.B. was actually younger than Albert, being born 2 years later.
If the fact that two of the best blues guitarists of all time were born within miles of each other, and only a couple of years apart….if that fact does not give you pause, then you have no sense of irony or fate. Must be something in the water down there.
But each took very different paths to their stardom. B.B. traveled to Memphis and made his mark on Beale Street. And he became famous rather quickly.
But Albert's success took more time. He was in his 40's by the time he became well known.
First he headed north from the cotton fields, first to Gary, Indiana, and later to St. Louis, Missouri. He even played drums for Jimmy Reed for a time, and can be found on his early recordings.
He eventually ended up in Chicago where he first recorded for Parrot Records. It was in Chicago that he eventually settled on the Flying V as his principal guitar. He named it "Lucy" strangely enough. I'm not sure if he was aware of what B.B. King called his guitar (Lucille). Or it that is just another example of karmic synchronicity in action. Either way it's pretty weird.
The Stax Years
During the 50's and early 60's he had minor success but never became well-known. It wasn't until 1966 when he moved to Memphis and signed with Stax Records that his career really took off. Booker T and the MGs, which included Booker T. Jones (of course), Donald Duck Dunn, and Steve Cropper, were his backup band during those Stax years and that was when he had many of his hits. Born Under A Bad Sign, Crosscut Saw, I'll Play The Blues For You, and many others were all recorded at Stax.
This merger of the blues and Memphis soul, would become his signature sound, and at the time, redefined the modern blues sound. He was very popular across both the blues and soul circles, and reached a wide audience of both blacks and whites.
Of course, Albert's playing is so powerful and unique that he eventually would have become famous one way or another. But it was that Stax sound, produced by the great drummer, Al Jackson Jr. (drummer on many Wilson Pickett sides), that would be his trademark and be emulated by many, many later blues men including Eric Clapton, Jimi Hendrix, Stevie Ray Vaughan, John Mayer, and just about every blues guitarist since. His blend of blues and soul helped keep the blues alive through the 60's and early 70's.
And it was Eric Clapton's Cream version of Born Under A Bad Sign, that introduced many whites to Albert, including myself. And he became a favorite of the white concert circuit including the Filmore's, both East and West. His career flourished in the late 60's thanks to his riding Clapton's popularity and props to Albert. I know it was one of the first blues songs I learned to play back in the early 70's.
But things died out for Albert in the late 70's as Albert tried to keep up with the times with funkier and stranger albums that got away from his blues roots. He actually stopped recording and touring for several years as his "star" seemed to be fading. Then things changed for him.
The Stevie Ray Vaughan Years
Thanks in large part to Stevie Ray Vaughan, The Blues had a major bump in popularity in the 1980's.
And Albert King had a resurgence in the 1980's as well, as the super-popular Stevie Ray openly proclaimed Albert his favorite guitarist and major influence. They often played together and some great videos of them have survived. Here's a 90 minute video that shows the two of them in top form.
The Great Session with Albert King and Stevie Ray Vaughan Side By Side. This is both of them at their best.
Playing Style
Albert King was left-handed and played the guitar upside down (like Jimi Hendrix). He tuned his guitar in a very unusual way to a minor key. Some say E-minor some say F-minor. Dan Erlewine, his former guitar tech, gave the low down in Guitar Player as being CFCFAD, high to low, when he worked on it in 1989.
But does it really matter. The point is, he found his own style and playing approach and used that to create his signature sound. That's really the lesson for all of us. Explore and search and come up with something that comes from only you and from deep inside. That's what Albert King did.
And he had a biting, mostly clean tone, partly because he often played through solid-state amps made by Acoustic. But somehow he made that often harsh setup sound good. Supposedly he never touched the low E string (low D according to above tuning) when he played. He played fills between his vocals a la B.B. King and many other top blues players.
Rock and Roll Hall of Fame
Albert was recently inducted into the 2013 Rock and Roll Hall of Fame. It's about time. John Mayer did a great introduction and there was a jam on some of Albert's tunes with Gary
Here's Mayer's Excellent Induction Speech For Albert King at the Rock and Roll Hall of Fame Ceremony in 2012. Like he says… "Albert King is the reason guitar players break high E strings."
Videos
This one came from a great live performance. The slow blues done right!
Born Under A Bad Sign from a performance in 1981
I'll Play The Blues For You
Pretty Woman from Bill Graham's Filmore East